Today we meet Jess Lambert from Halcyon Lines. With commissions coming from around the world this girl is one to watch. Jess has made a big impact on the surfing world and art world with her intricate line art and bubbly personality. Interview for CURVY by Hayley O'Connor.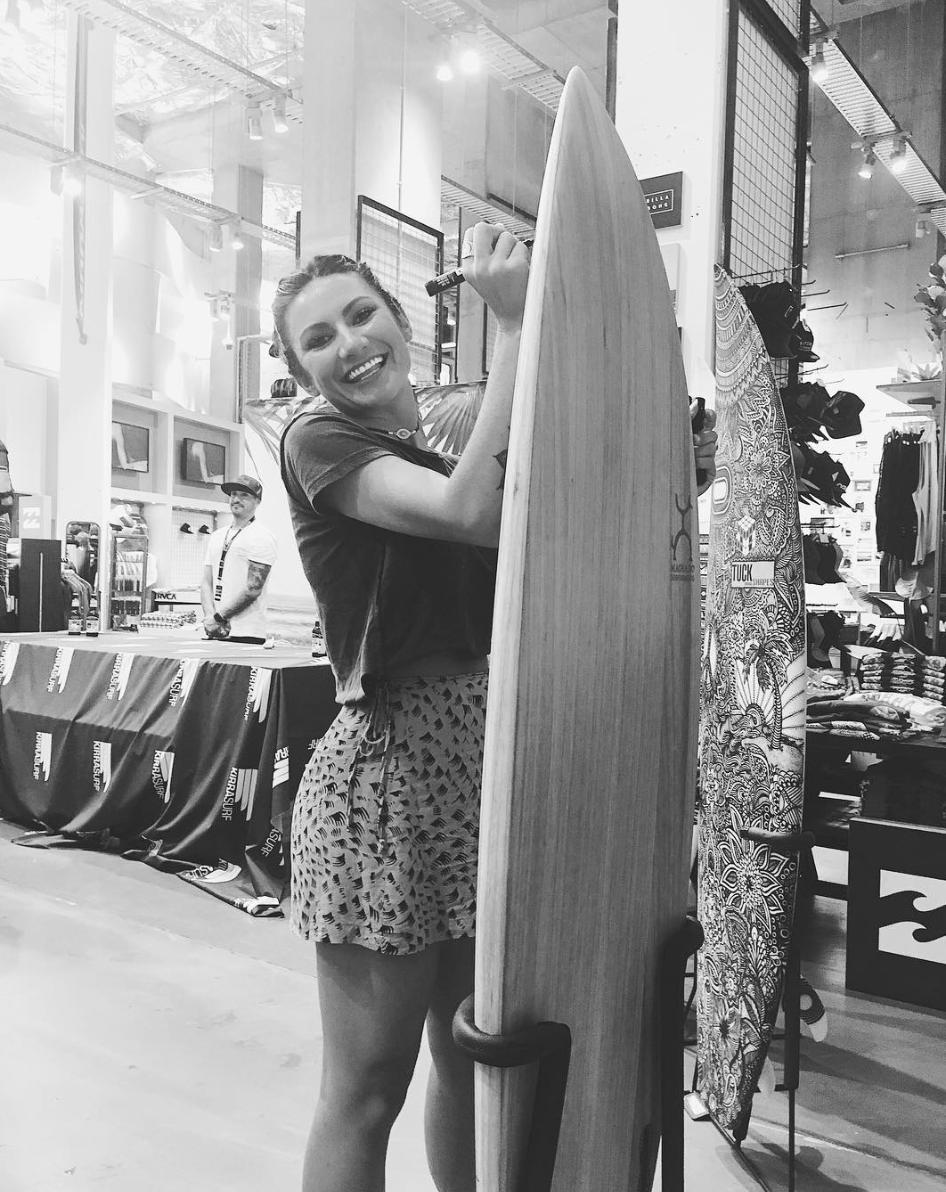 CURVY: Can you tell us about how you started out?
Jess Lambert: I've drawn for as long as I can remember, when I was young, all through school and after school I studied Fine Arts where I experimented with a lot of different styles of art until I developed the style I use now in most of my work. It came one day when all I had was one black pen, none of my paints, no colour just one pen, so I drew a seascape of Newcastle, my home town, using a bunch of different lines and patterns. I loved drawing in that style so much that I kept developing it, using different thickness pens to make different lines and patterns and now that's my own sort of signature style I guess.
C: When did you first realise this was something you could make a career out of?
JL: About 4 years ago I bought a blank surfboard as a different type of canvas to work on because I love being at the beach, in the sun and saltwater, and I love drawing, so I figured that was the perfect way to combine those two things that I love. I completely covered that board in freehand lines and when people saw it I got such a positive response from everyone, friends, family and complete strangers were asking me to draw on their boards. Over the past four years its been a process of building up my portfolio, working on different boards, with different shapers, and then also delving into all other areas like wall murals, drawing on Converse shoes, designing tattoos, just anything I can think of and now its turned into something I not only love doing but can turn into a career. I want to do this everyday, for as long as I can.
C: You draw a whole lot of intricate lines! how long would one piece take?
JL: It depends how big I'm drawing, but even some of the small pieces can take just as long. On average most of the surfboards I draw on take between 15-20 hours from start to finish.
C: What was the most important thing or lesson you've learned during your development as an artist?
JL: Just constantly challenging myself with what I can do and where I can take my art. I think not just in art but in everything, it can be easy to get stuck in a rut of doing the same things over and over, but I always like to try new things, draw new subjects, on different surfaces, so I never lose my passion for this, that's the most important thing for me.
C: What inspires your art the most?
JL: I love being active and outdoors, we have so many amazing beaches, national parks, waterfalls and nature walks on the coast so I get a lot of design inspiration from that. Taking in what I'm seeing like different tree's & leaves, shells on the beach, patterns within the water, I look at those things and make up my own sort of lines. I often have a little sketchbook in my bag, so I can scribble things down to remember and develop them later to use them in my work.
C: Your love for creating art on surfboards lead you to meeting Kelly Slater, what was that like?
JL: That was really crazy & a bit of a dream come true. I've been working with FireWire surfboards for over 2 years now, a company that Kelly is part owner of, I always said from the start I'll meet him one day, one day he'll know who I am. I'd always set it as a goal of mine, but for it to actually happen was kind of surreal, and the fact that he'd already seen my boards before meeting him, that was really special. If Slater approves I'm happy with that!
C: What are the most rewarding and the most difficult aspects of being an artist?
JL: The most rewarding is definitely seeing someones reaction when they see their artwork for the first time. Whether its high pitch screams, happy tears or no words at all because they're in complete shock, I love it all. I also get a lot of emails and messages from people saying how they've been inspired to start drawing from seeing my work, that's a really special feeling too because I think its so important for us to take time out and do the things we love. It can be so easy to get consumed in work, in study, in trying to be 'successful' that sometimes we lose sight of the things that are actually the most important. If you're doing something you love, something that makes you happy, I think that flows through to all other parts of your life, it keeps everything balanced & to me that's 'success'.
And the most difficult, probably never being able to look at a blank surface without wanting to draw all over it, I see blank boards, big blank walls and I just think to myself 'Ok where's my pen we need to fix this' haha!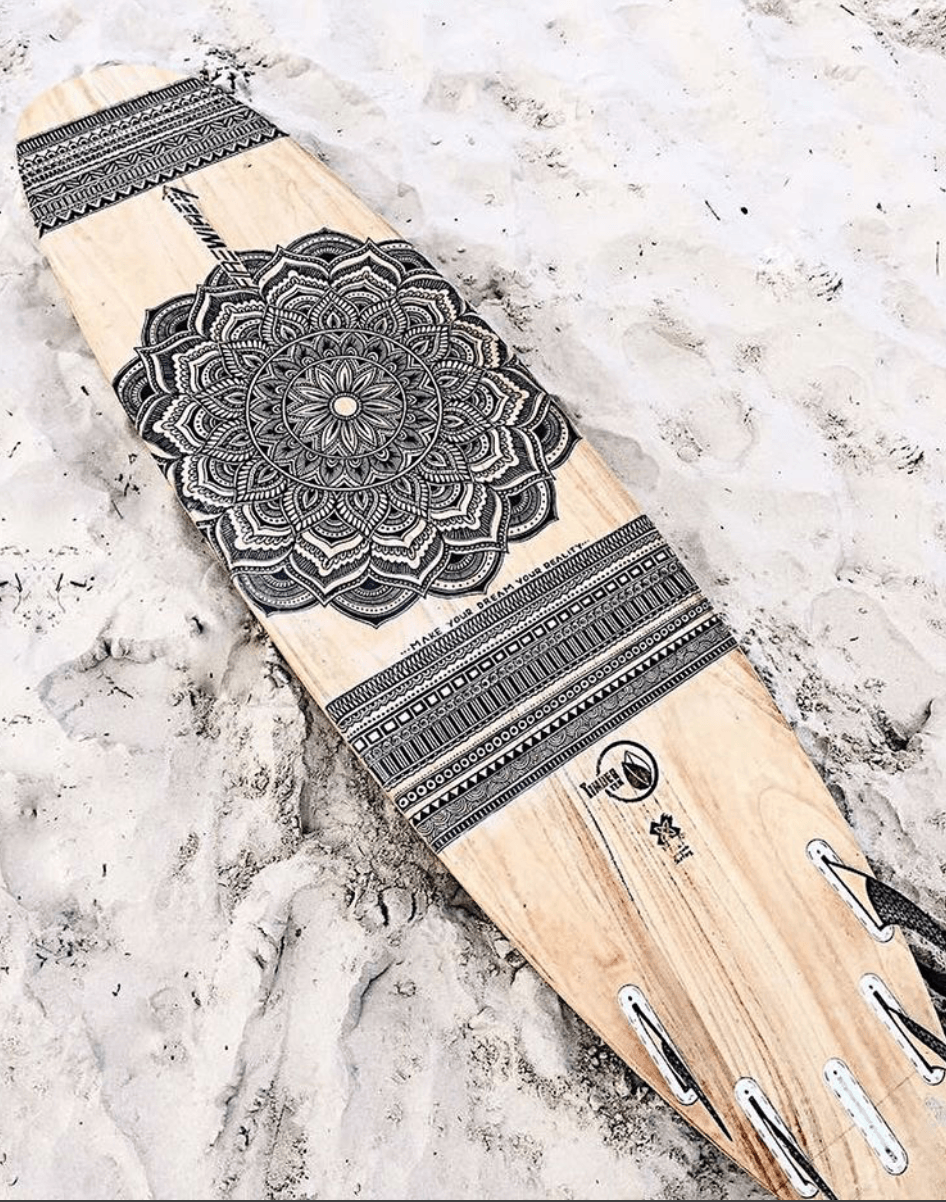 C: When did you know you had made it as an artist?
JL: I'm not sure I've had that 'made it' moment, lots of little moments have made me feel very lucky and like all the hard work is paying off though! Just constantly hearing how much people from all over the world love my work, that's always so nice. I know Mums secretly waiting for that 'made it' moment, so I can pay her back for all the years of helping me buy my art supplies….that stuff isn't cheap ! *laughs
C: What project has been the most exciting to work on?
JL: It's hard to pick just one! But I think the most exciting so far because of its sentimental value would have to be a board that I sent over to America last August, that board will always be special because it was the first one I ever sent internationally. That was a goal of mine for so long to send my work all across the world so it was so exciting to finally have that opportunity. Since then I've sent boards to the UK, China, The Phillipines, and Europe, but that first one will always be special.
Posted by Hayley O'Connor in art
Hayley O'Connor is an Illustrator and Graphic designer specialising in Illustration, Typography & Textiles. After studying Graphic Design in Melbourne where she grew up, Hayley worked as an Graphic designer in the fashion industry as well as freelancing as an Illustrator. In 2015 Hayley made the move to the Gold Coast where she's continued her work. Her art is created with pencil, pen & watercolour and she draws inspiration from fashion, textiles, surf culture & nature.