CURVY: What has influenced your style of art?
Melissa Grisancich: My influences have an effect on my technique as well as ideas and concepts. I am influenced by old record art, hand painted movie posters, matchbox art, soviet photography, old packaging and ephemera, things I find, romanticism, Alex Katz, Henri Rousseau, Frida Kahlo, Francis Bacon, Lucian Freud to name a few.
I started off as an oil painter. That's influenced how I use acrylics today. I paint with care but I also paint quite fast and loose. My mental health state can have a big influence too and that is actually quite a good thing. A true artist paints from the heart at all times!
C: Did you study art?
MG: I studied Visual Arts at Frankston Tafe for two years, majoring in painting, sculpture and printmaking. Then moved onto a Bachelor in fine art painting at RMIT Melbourne. I also got my diploma in secondary education. After becoming qualified I decided it wasn't for me. I would rather teach special needs in the future.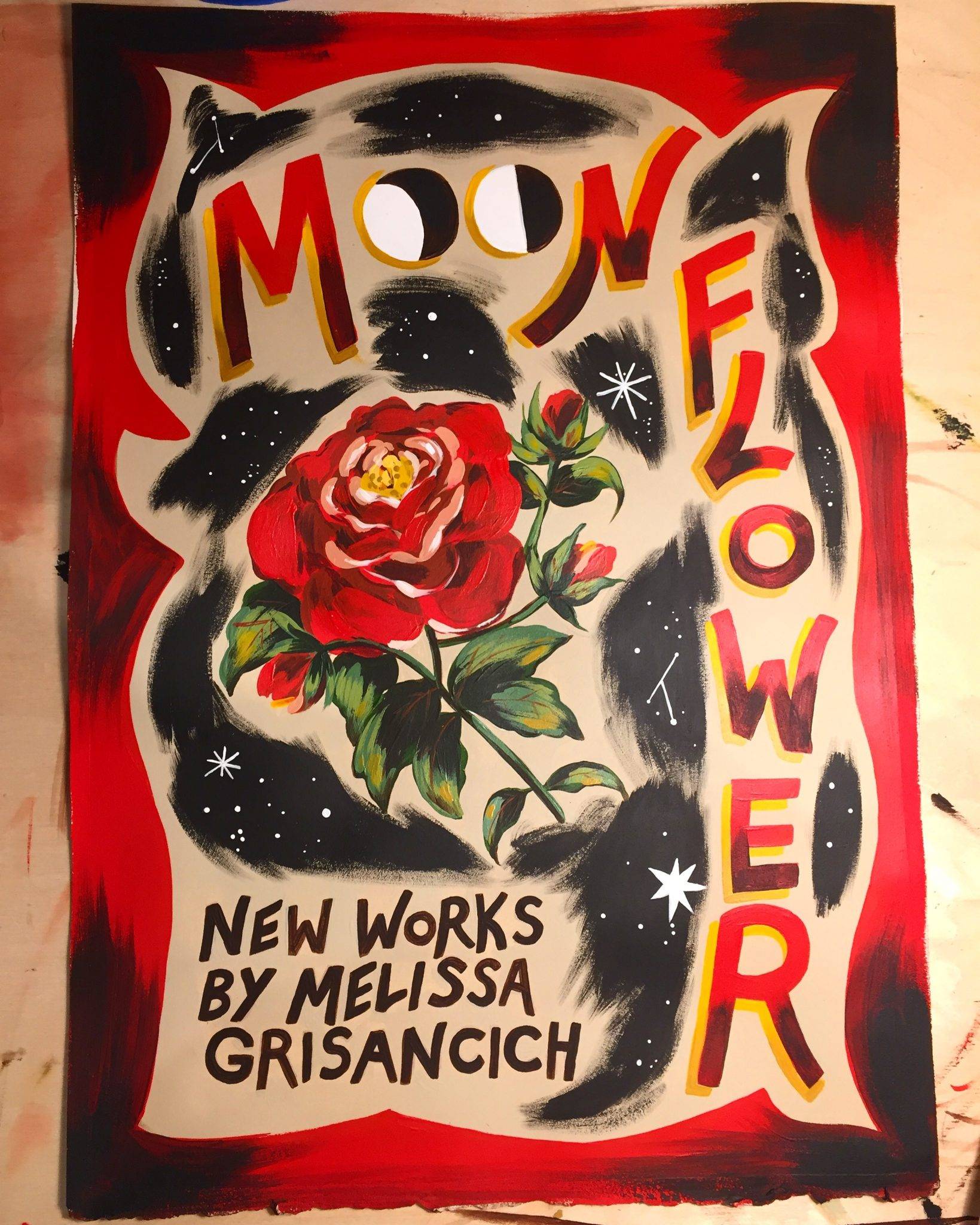 C: Do you work full time as an artist?
MG: It feels like I do but I don't. I work on weekends as a manager at the RVCA Corner Gallery, Collingwood.
C: Outside of painting, are there any other mediums you particularly enjoy?
MG: I enjoy sewing. I have been sewing since I was about 5 years old. Mum bought me a mini Janome sewing machine and I guess I've been encouraged to sew ever since. My patience with a machine is about two hours so nobody can expect a clothing range any time soon. I like making flags and quilts, dresses for myself and bags. Other mediums I enjoy using are wood and resin.
C: Tell us a little bit about your work with RVCA? How did that come about?
MG: I have been working with RVCA for over 5 years. I started off making paintings to print on shirts. Then I got moved onto clothing ranges and their Artist Network Program lineup.
C: You have a solo show coming up with RVCA in the US tell us a bit about what your working on for this show.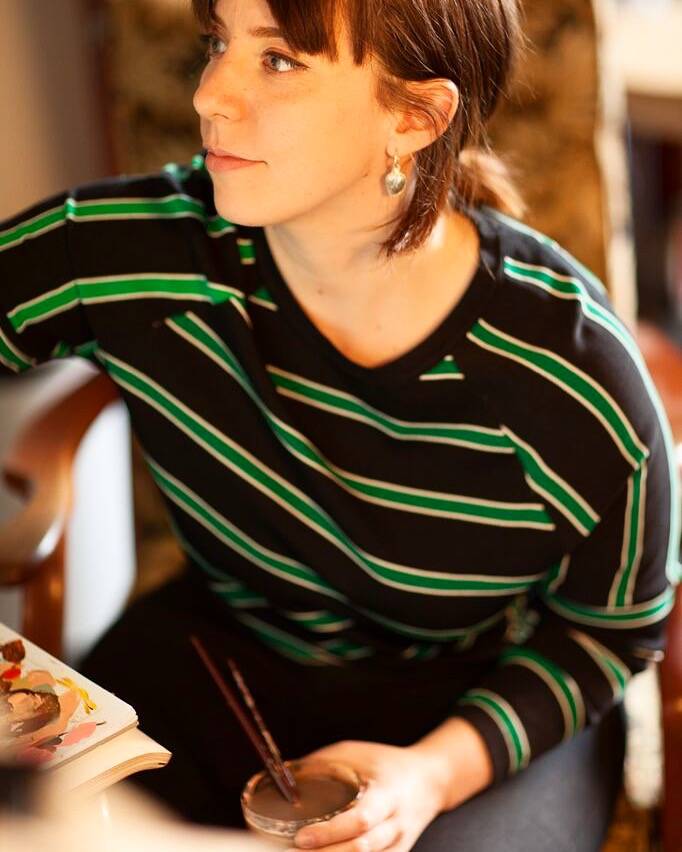 MG: The show will be in San Francisco. I have called it "Moonflower", after my favourite rose "blue moon". I have gone with quite a romantic theme and producing paintings, sculptures, a quilt and digital fabric prints.
C: We saw that you've recently been elevated to RVCA's Artist Network Program alongside artists such as Barry McGee, Kelsey Brooke's & Ed Templeton – that must be quite exciting?
MG: I find it way too exciting. Especially as Steve Powers, Barry Mcgee and Ed Templeton are artists I really look up to. RVCA have done so much for my art career. I've had opportunities I would never have dreamed of. But to put me on a list with those Artists is almost a little too much!
C: The SpringTime exhibition you curated last September was a great success. Rumour has it there will be a second rendition for 2017, what are you planning for this one?
MG: I have just picked a whole new roster of artists for this year. I plan on having workshops and events on each weekend during the duration of the show. Being able to curate this kind of show has helped me a lot and I also hope it makes a lot of females in the art scene feel more welcome and encouraged. In the end it's about the work you make and I really want Spring-Time #2 to focus more on that. Being all female show is just a big bonus and I've been given the platform from RVCA to do it!
C: What is next for you?
MG: I'm going to have to say just focussing on completing the body of work for my solo show and then maybe give myself a holiday.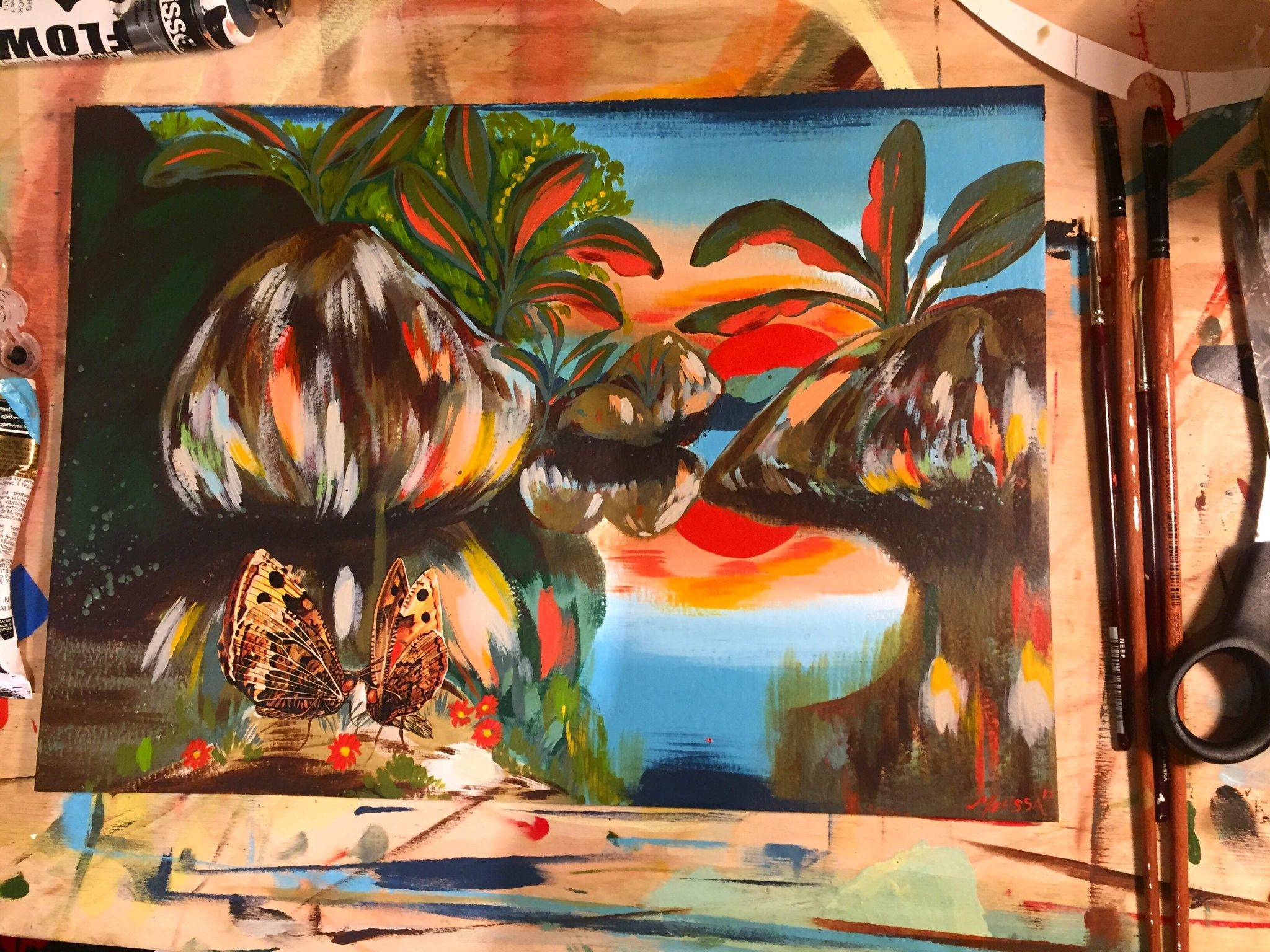 Posted by Hayley O'Connor in art
Hayley O'Connor is an Illustrator and Graphic designer specialising in Illustration, Typography & Textiles. After studying Graphic Design in Melbourne where she grew up, Hayley worked as an Graphic designer in the fashion industry as well as freelancing as an Illustrator. In 2015 Hayley made the move to the Gold Coast where she's continued her work. Her art is created with pencil, pen & watercolour and she draws inspiration from fashion, textiles, surf culture & nature.